properly can i get cytotec without rx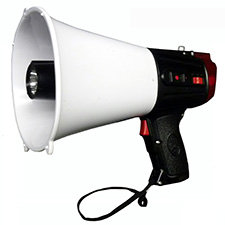 PGM-20 Piezo Dynamic Megaphone with LED Emergency Light & siren
Power: 12VDC
Max output: 120dB
Battery life: 8 hours
Material: ABS plastic
Color: white bell, black handle
Size: 7″ x 9″ x 11″
6 Functions:

Megaphone w/volume control
Siren
Whistle
LED spot light
Warning light
Recorder/Playback innovative new design, this all-in-one emergency megaphone features a powerful LED flashlight, colored flashing signal dome light, emergency siren and whistle. Along with the ability to record and repeat a ten-second message. Built around a high quality 20 watt Piezo Dynamic voice coil megaphone with omni directional microphone for clear enunciation.The unit is lightweight, durable and energy efficient. Requires 6 AA batteries (not included) with LED power level indicator.